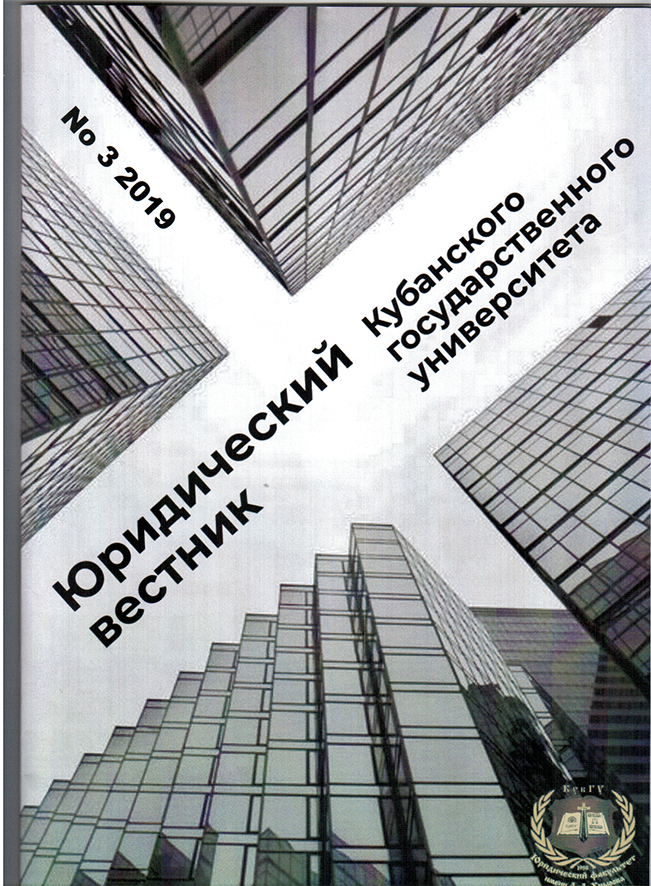 In the journal "Legal Bulletin of the Kuban State University" publishes new original results of scientific and applied research in various areas of legal science. Published by the magazine serves the purposes of development of legal science in the Russian Federation, decision of actual scientific problems, scientists in Russia and other countries of the world. The journal has been published since 2009.
The journal is included in the list of peer-reviewed scientific publications, which should be published the main scientific results of dissertations for the degree of candidate of Sciences, for the degree of doctor of Sciences in scientific specialties and their respective branches of science, which are awarded degrees.
The journal is included in the list of Russian Science Citation Index.
Topics  the journal publishes the main results of scientific-research and scientific-practical aspects of science activities-legal science (Group specialties-12.00.00 juridical sciences); scientific specialties:
12.00.01 – theory and history of law and the State; history of teachings on the law and the State;

12.00.02 – a constitutional right; constitutional litigation; municipal law;

12.00.03 – civil law; business law; family law; international private law;

12.00.08 – criminal law and criminology; criminal-executive law;

12.00.09 – criminal process;

12.00.12 – Forensics; forensic expert activities; operatively-search activity; 

12.00.14 – administrative law; administrative process;

12.00.15 – civil process; arbitration process
ISSN 2078-5836.
Log registration certificate PI № FS 77-49493 from April 20, 2012 year issued by the Federal service for supervision in the sphere of communications, information technology and mass communications (Roskomnadzor). Publication frequency is log 4 issues per year. Distribution territory — the Russian Federation, CIS countries, foreign countries. Magazine subscriptions can be obtained at any post office in Russia (joint catalogue "press of Russia", subscription index 38774).
Articles are accepted in the Russian language.